Last month we discussed the series of commitments that set the standard for how we work on your behalf. These commitments are at the heart of our constant drive to satisfy residents.
One of these commitments is that when you need help, we're on it! We commit to respond to resident's request within 24 hours or within one business day, if an inquiry is made after hours, on holidays or weekends. We commit to promptly inform you of any issues that delay completion of work or other action.
Your satisfaction is important to us. It's how we grade ourselves — an integral part of who we are as an organization. We know you have choices and we work hard to earn your trust, each and every day.
PLEASE ROMAINE CALM! THE COMMUNITY GARDEN IS CLOSING FOR THE SEASON VERY SOON!
The Community Garden will be closing for the season on Sunday, September 15th. After this date, the Community Garden gates will be permanently locked. All plot holders should review the expectations below to ensure his/her garden plot is restored appropriately:
You must remove all ornaments, vegetation, weeds and/or personal items from the garden areas and return the plot to original condition by Sunday, September 15th.
You will also need to even-out the plot by filling dirt in any holes created from vegetation. As this is an organic garden, you must use proper gardening soil for filling of holes. To make it easier on your back, try using a shovel – it really is a ground-breaking tool!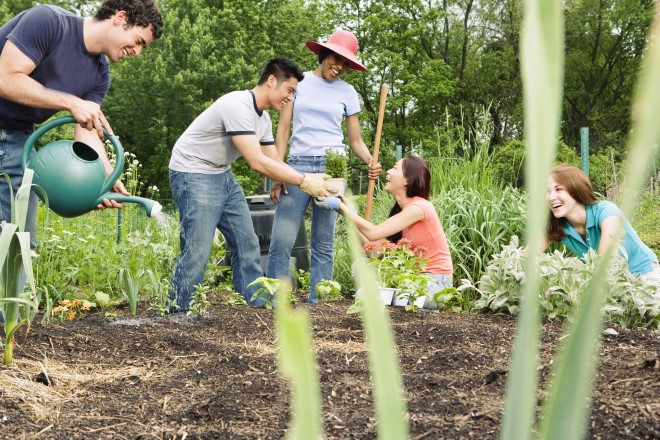 The garden plots will be inspected on Monday, September 16th, so don't turnip late! Failure to restore your garden plot to its original condition prior to the garden closing will result in a $50.00 clean up fee and participation ineligibility for future seasons. Any personal items left in the garden as of this date will be subject to disposal. We hope you enjoyed good thymes during this first year of the Corvias Organic Community Garden and found it to be fruitful! Thank you all for your efforts, and we look forward to growing with you again next season. Please call us with any questions or concerns at (907) 302-2170.
PeaS: Stay tuned for information about the 2020 Community Garden opening in late Spring. Sign-ups will begin approximately April – May 2020 and will be on a first-come, first-serve basis.
| | | |
| --- | --- | --- |
| | | We have new refrigerator magnets that list the 24-Hour Service Request phone number for easy access! Stop by the office to grab one for your home today. |
EASY WATER CONSERVATION TIPS FOR YOUR KITCHEN
Wash your fruits and vegetables in a bowl of water rather than under a running tap.
Soak pots and pans instead of letting the water run while you scrape them clean.
Don't use running water to thaw food. Defrost in fridge to save water and for food safety.
Run your dishwasher only with a full load.
PREVENT MOISTURE IN YOUR HOME
Everyone wants to be comfortable in their homes; for some this means cranking the heat as soon as it drops below 70. For others it means keeping the thermostat steady at 65 all year round. No matter the climate you most prefer, some preferences can lead to excess moisture in your home. This can cause issue, including mold.
To combat mold, Corvias has compiled a couple of helpful tips to help you reduce potential moisture and buildup before it begins. In this Mold and Moisture Tips for Residents you will see some immediate tips you can take to minimize mold growth. Additionally, the Mold Information and Prevention Addendum, found in your Resident Occupancy Agreement, will explain the responsibilities for both you and Corvias Property Management when it comes to mold and moisture.
If you have any questions about these documents, please contact your community center.
Fall is finally here and with it comes cooler weather that makes this season an ideal time to get outdoors and get yourself into better shape. It's said that "summer bodies" are built in the fall and winter, so getting a head start now can not only give people a jump on their New Year's Resolutions, but also help them set habits and routines that lead to fewer pounds and a greater drive to succeed for the long term.
Dress well, it's important to wear the right gear, which can be tricky in the fall.
Lots of liquids are great, but some are better than others.

Don't push too hard, be realistic.

Get an app, there are tons out there.

Mix it up, don't focus on just one area.
HAPPY 72ND BIRTHDAY, AIR FORCE!
Join us on Wednesday, September 18th as we celebrate our beloved Air Force with a birthday cake. Stop by the office anytime from 10:00am – 4:00pm to grab a slice of cake for yourself, your family and/or co-workers!!
Wednesday, September 18, 2019, is the 72nd anniversary of when the U.S. Air Force was officially separated from the Army and made into its own branch of the military. There are many fun facts and amazing stories associated with the Air Force dating back generations, so to celebrate it properly, here are just a few:
| | | |
| --- | --- | --- |
| | | Only one man has ever achieved the rank of five-star general in the Air Force, according to GovX. Gen. Henry Arnold, better known as Hap Arnold, was in charge of the Army Air Forces – the predecessor to the independent Air Force – during World War II, but was upgraded to General of the Air Force in 1949. Arnold is, consequently, the only person to ever be a five-star general in two separate branches of the Armed Forces. |
Another key figure in the Air Force's history is Gen. Carl Spaatz, who fought in both World Wars, first as a fighter pilot in WWI, then as a commander in WWII, according to the Pleasanton Express. He went on to become the first Air Force Chief of Staff when the branch was created in 1947, and served until the next year when he retired from the military.
Interestingly, while many people now associate the Air Force with its smart blue uniforms, that's not what cadets wore in their earliest days, the Pleasanton Express noted. In fact, those uniforms didn't get adopted until some time later. Until that point, members of the Air Force stuck with that familiar military drab.

While there are, of course, many planes in the Air Force's history that are worthy of mention, the one most people would instantly recognize is Air Force One, according to History in Orbit. While the designation actually applies to literally any plane the President of the United States is on, the famous jumbo jet is fascinating. For one thing, it has more than 4,000 square feet of space, including three floors; most Boeing 747s have just two. Interestingly, there are actually three planes that are formally considered to be Air Force One: two 747s, and a much smaller Gulf Stream C-20C, which is used in case of emergency and rarely referenced or seen.
September 4 - Dip Into Fall - Hot Apple Cider with Carmel Apple Slices
September 13 - DIY Milkshakes to celebrate National Chocolate Milkshake Day
September 18 - Happy 72nd Birthday, Air Force! Enjoy celebratory cake in the Corvias Community Center
September 25 - Fall Popcorn Bar
September 25 - Resident Advisory Group Meeting - 6:00 pm - Corvias Mile Post 26 Community Center
Stay tuned for more fall & winter events to come! The resident events calendar has been posted on Facebook for October thru December 2019.
Eielson Air Force Base

663 Kodiak Street

Eielson AFB, AK 99702

(907) 302-2170