Your satisfaction is important to us. It's how we grade ourselves, an integral part of who we are as an organization. We know you have choices and we work hard to earn your trust, each day.
At the heart of our constant drive to satisfy residents is a series of commitments that set the standard for how we work on your behalf.
One of these commitments is that Your Voice Counts. We want to hear if we meet your needs. Residents receive a follow up survey from Corvias after moving in or when a service request is completed. Each year, we ask every resident a single, simple question - would you recommend Corvias? We hold ourselves accountable to these results.
We continually strive to be the best. Every opportunity, every action, every time.
Our most important commitment shows up in everything we do. Each and every day we value our residents and treat everyone with dignity, respect and professionalism. We are privileged to serve those who serve our country.
Help us remember in a special way,
All the military members who serve us far away.
Bring a picture to hang on our Christmas Tree
To honor those who keep us free.
Please bring a picture to hang our special Christmas Tree between now and Christmas to honor those who are away during this special time of year.
HOLIDAY TRAVEL & HOUSE WATCH PACKET
'Tis the season for holiday travels! If you plan on being away from your home for three (3) or more days, you will need to complete a House Watch Packet and submit it to the Corvias office. The House Watch Packet ensures that you and your home are prepared for your absence. The packet includes a helpful checklist of the steps you will need to take prior to your departure, helpful reminders, and the House Watch form indicating the name and contact information for the person(s) watching your home during your absence.
You may obtain a copy of the packet by visiting our office during business hours or emailing Eielson.Leasing@Corvias.com. All packets should be submitted to our office during business hours prior to your departure.
If you are deploying or going on a TDY, you will need to complete the Deployment/TDY Packet instead.
EMERGENCY WINTER ROADSIDE KIT SUGGESTIONS
Winter has arrived and with that comes difficult driving conditions and increased risk of breaking down. Always be prepared for the unexpected. Reduce your speed, keep extra distance between you and other vehicles, allow for extra travel time and prepare an emergency roadside kit. Some suggestions on what your kit should contain:
Flares
Jumper cables
High visibility belt/vest
First aid kit
Blanket/space blanket
Winter gear/extra clothing
Towel

Hand/feet warmers
Snacks; nuts, power bars, granola, etc.
Shovel
Ice scraper
Yak tracks
Pen & paper
Scissors/knife
For more information on how to prepare for winter driving visit:




Facebook @AlaskaDOTPF

Twitter @AlaskaDOTpf

511.alaska.gov

dot.alaska.gov/winter
PREVENTATIVE MAINTENANCE IS STILL ONGOING
For those that have not yet been completed, we will be initiating contact to perform the Annual Preventative Maintenance (PM) check of the home. Watch out for calls or flyers requesting entrance to your home for PM to be completed prior to the end of the year.




We will attempt to schedule this visit with you ahead of time. The visit should not take more than 1 hour upon entry. The PM will involve checking alarms, batteries, dryer vent, fire extinguisher, blind cords, collecting assets information from kitchen appliances, and other miscellaneous safety checks including taking photos of appliances to document serial numbers.
We appreciate your cooperation in completing this quick visit successfully. All homes must have the PM completed by the end of the year.
*Please note that many homes have already had their PM completed for 2019 during routine work orders and/or during previously scheduled appointments.
Don't let the cold and dark of winter keep you inside. The local area has so much to offer!
Located just about an hour from Eielson, Moose Mountain Ski Resort offers a great place to ski/snowboard.
Birch Hill/UAF offers miles and miles of cross country ski trails.
Rent snowshoes/skis from Eielson's Outdoor Rec and check out the trails on and off base.
Take a snow machine trip with Eielson's Outdoor Rec.
Enjoy a hot chocolate and a sweet treat at a local coffee shop.
Visit the Children's Museum, the Museum of the North located at University of Fairbanks and/or the Morris Thompson Cultural Center.
Enjoy a holiday bazaar- check out this full schedule of times and locations.
Enjoy a local hockey game.
Ice Skate at Corvias' ice rink.
Your Corvias Eielson Team is hosting a Holiday Food Drive to Support the Eielson AFB Food Pantry.
Please consider helping us stock up the food pantry for the busy holiday season.
From now – Dec 15th we will be collecting donations. Donations bins will be set up in the Mile Post 26 Community Center and in our office.
Suggestions on items to donate:

Canned Foods (pumpkin, canned veggies, yams, evaporated milk, etc.)
Boxed Stuffing
Chicken Broth
Sugar/Flour/Spices
Dry Pastas/Sauces
Cereals
Pancake Mixes
Instant Rice
Hot Chocolate
Join us on Tuesday, December 3rd from 5:00 pm - 7:30 pm for FREE photos with Santa. You will get 2-3 digital photos, time with Santa Claus and a candy cane. Plus, you can enjoy hot chocolate and fresh baked cookies in Mrs. Claus' cookie shop before and after your family photos!!
This is the picture-perfect occasion to snap beautiful family photos to use in your holiday greeting cards.
A sign-up sheet* can be found in the Community Center Office if you have a time preference ...or you may call the office at (907) 302-2170 to get your name on the list. Walk-ins* are also welcome!
*First-come, first-serve for photos and time slots.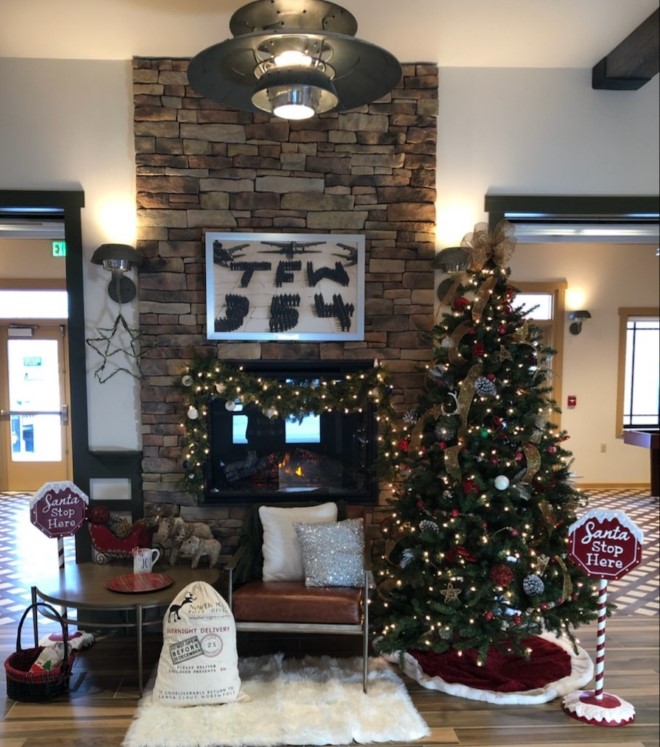 HOLIDAY TRAVEL HOME SECURITY TIPS
The holidays mean spending time with extended family and friends, eating lots of yummy goodies, and seeing the smiles across everyone's faces a little bit more than usual. Don't ruin the good vibes by worrying about your homes safety when you are away. Instead make sure your home is as prepared for your much needed time away as you are. Here are some tips to help put your mind at ease:
Ask a friend to watch your house during your absence and check your mail. You can call the community office if you are unable to find someone to assist.
Report extended leaves to your community office.
Turn off, unplug, and extinguish holiday decorations and other non-essential items when leaving the house.
Timed, motion activated, or dusk-dawn lights may be used, but it is recommended to ensure your lighting is off. Double check pantries, closets, bathrooms, basements, laundry rooms, etc. before leaving, to ensure fans and lights are off.
Ensure all doors and windows are locked before you leave, including outdoor spaces.
Unplug large electronics like TV's and computers to avoid any electrical issues.
Lock up important documents or items, and keep valuables out of window view. Take pictures of where everything is before you leave.
Make sure all trash is placed in the trash bins, and clean out your refrigerator. This will help prevent smells, and spoiled food.
Keep your heat on to at least 60 degrees to prevent frozen pipes, and reduce energy costs.
Don't leave your pets alone in the home. Leave your pets with someone you trust while you are away or use a boarding facility.
Prep the outside by removing any spare keys, checking your security system if you have one, putting trash bins away, ensuring your outlets are protected, and removing any décor that isn't fastened or secure.
Avoid posting or showcasing your travels until after you are safely back home.
Are you the spouse or child of an active-duty service member with plans to go to college? Go to corviasfoundation.org/apply-now to learn more about available scholarships from Corvias Foundation. The online application process is quick and easy!
December 3 - Photos With Santa - 5:00 pm - 7:30 pm - Free event with hot cocoa & cookies
December 15 - Last day to donate to the Food Drive - Mile Post 26 Community Center & Corvias Offices'
December 24, 25, 31 & January 1 - Corvias Offices' Closed*
*Please contact the 24-hour Emergency Service request line at: 907-302-2180 to place an urgent service request.
Eielson Air Force Base

663 Kodiak Street

Eielson AFB, AK 99702

(907) 302-2170